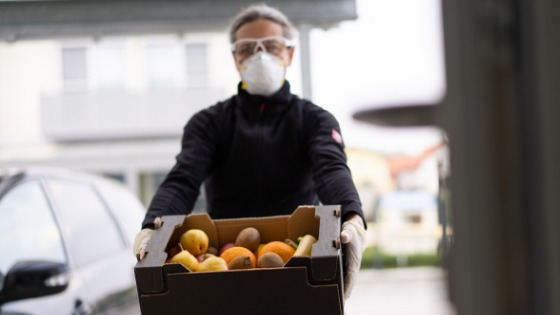 As governments all over the world enact policies in order to slow the spread of COVID-19 we hear much talk of Essential Workers. Given the impact that COVID-19 is having on many people's finances it is only natural that you may be asking yourself:  "Why do some people get to work, and others not?" In this blog we will look at what are essential services, why are some jobs deemed essential, and what can we do to support the essential workers who are on the front lines day in and out? 
Essential Services are those that ensure the continued physiological safety and security of human beings including our needs for food, water, and shelter. So, you may be sitting back asking yourself: "I can see why the Nurse, Firefighter, and Doctor's jobs are essential, what comes of the meat packer or gas station attendant? Why are their jobs absolutely necessary?" Such a great question and in order to answer it we can look at the food system as an example. 
The food system is a complex web of activities involving production, processing, transport and consumption. For many of us all over the world we no longer grow our own food and we rely on this complex system to provide one of our fundamental needs.
The food system is made up of the following:
Food Production

Distribution & Aggregation

Food Processing

Marketing

Markets & Purchasing

Preparation and Consumption

Resource & Waste Recovery
Can you imagine all the different workers that are critical to keeping this system moving? The food system is just one of many critical systems necessary to keep us safe and secure. Some examples of others are: Financial Services, Telecommunications Infrastructure and Services, and Emergency Services. 
Essential Workers make sacrifices every day when they leave their homes and families to go to their workplaces. In this time of fear and uncertainty when we are all being told to stay home and have physical distance, these workers potentially put themselves in harm's way to ensure that we all have our basic needs met during this pandemic. 
So what can each of us do to support Essential Workers? Here are some suggestions:
Stay home!!! Only go out when you must in order to get necessary supplies like food or go to work. 

Work from home, if possible. 

Follow all recommendations on personal hygiene. 

Express your gratitude and acknowledge Essential Workers every chance you get, on your social media, or if you personally know an essential worker call them up and thank them.

Donate money to support the efforts of Essential Workers, if you are able. 

Create your own unique way to give back to those working everyday to keep us safe and secure. 
Stay safe and healthy,
Amber Howard, PMP, CBAP, CMP, CPRP, CCP
Amber Howard is a Project Management Professional, Certified Business Analysis Professional, Change Management Practitioner, Certified Personal Resilience Practitioner, Certified Coach Practitioner